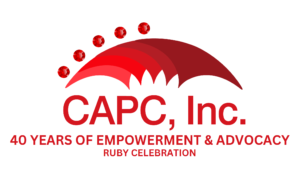 CAPC Celebrates 40 Years with 1st Annual Family BBQ
The aroma of tacos and the sound of laughter filled the air at CAPC's Annual Family BBQ this past weekend. The event, held at Michigan Park in Whittier was an extraordinary success, bringing together CAPC families, community members, board members and staff to enjoy a day of fun, food, and fellowship.
Community members from all walks of life gathered together, showcasing the true spirit of unity and togetherness. Attendees were treated to a tacos and sides, cold ice cream and refreshing beverages. In addition to the delightful culinary offerings, CAPC hosted its very first Cornhole competition hosted by the Individual Advisory Committee.
CAPC and its dedicated team have once again proven that when community comes together, incredible things can be achieved. As the organization continues its mission of fostering compassion, support, and inclusivity, this Annual Family BBQ will remain an example of the positive impact that can be made when CAPC comes together for a common cause.
For questions on events or more information on our organization please contact info@capcinc.org